TG-122C
High Power Handheld Signal Jammer
User Manuals of Spy
Camera
,
Bluetooth
Jammer
Mobile Signal Jammers partial appli
cat
ions
Police
and Meeting Room, Security Services, Military Units, Prisons, Banks, Churches, Conference Rooms, Classrooms, Secret Services, News Conference Rooms, Libraries, Museums, ,Cus
toms
, Houses.
1,ON/OFF Switch 2,Input DC 3,Wind slots in both sides
4,
LED
lights for Working 5,LED lights for Charging 6,Antenna
7,Single band working status indi
cat
ing light
8,Inside cooling fans support jammer working 24/7 continuously
Detail pictures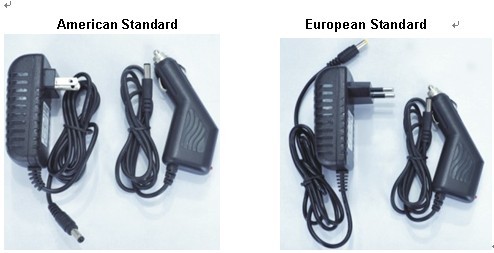 American Standard European Standard
US plug and EU plug are alternative, please inform us about it in the order in advance.
Specifi
cat
ion
Type Output Port Frequency Radius range
Type A
Europe and Middle east
Market GPSL5 & Spy camera 1000-1100MHz 5-15M @ de
Pen
ding on the mobile
service provider's network condition
Spy camera 1100-1200 MHz
Spy camera 1200-1300 MHz
Wifi/Bluetooth 2400-2500 MHz
Power supply: AC110-240V 12V Built-in Battery:1800mA/h
Total output Power: 2 watt
Device Size: 113*60*31mm Package Size: 209*52*86mm
Net Weight: 0.275Kg Gross Weight: 0.775Kg
System:
Wireless
SPY CAMERA, BLUETOOTH,WIFI,WIRELESS AUDIO & VIDEO SYSTEM
Built-in battery time : 90minutes
Temperature: -10°C to +50°C
Feature and Advantage:
1. Charging while working.
2. Each band can work separately or simultaneously.
3. Wind slots on two sides and inside coolers make a constant cooling working.
1000-1100Mhz: Wireless spy camera( GPSL5),wireless audio and video
1100-1200Mhz: Wireless spy camera, wireless audio and video
1200-1300Mhz: Wireless spy camera(GPSL2),wireless audio and video
2400-2500Mhz: Wifi/Bluetooth
Note:
1/Be sure to con
nec
t all the antennae before the power supply is switch on.
2/When you get the device in the first time,recharge the device only after the power is used out. To
prolong the lifespan of the device, try to recharge it no less than 12 Hours.
3/Any sealed mark on the ma
chi
ne teared are void.
4/Don't put the jammer in the water and fire to avoid using in the bad, Condition of over-wet, over-hot,
high voltage and high magnetism.
5/Antennae shall be used vertical to the ground, working more efficiently.