Model No.:CTO56547 U.Price: Negotiable Price Terms: FOB Payment Terms:T/T Delivery Lead Time: Negotiable Product Origin: China
Detailed Product Description
Description of PTZ Keyboard:
The DVR keyboard can be used simultaneously with the DVR mainframe and built-in hard disk VCR to control matching terminal products, such as high/constant- speed dome Cameras, decoders, etc.The electric outlet between the controlling keyboard and the receiving terminal is EIA/RS ->485,which enables the keyboard to control as many as 128 dome cameras or other terminals within a maximal communication range of 1.5 Km.

The JK900 keyboard Control high speed dome camera and ptz, it is the main equipment for man-machine interface in surveillance system, can be used as main keyboard or branch keyboard, It is very easy and enjoy to control the PTZ camera with it.

On the front panel of the DVR keyboard are variable-speed controlling joystick, keys and LED digital displayer. The LED digital displayer shows system and operation information. The controlling joystick controls the variable-velocity movement of the dome, and manually setup positions.

Instructions of PTZ Keyboard: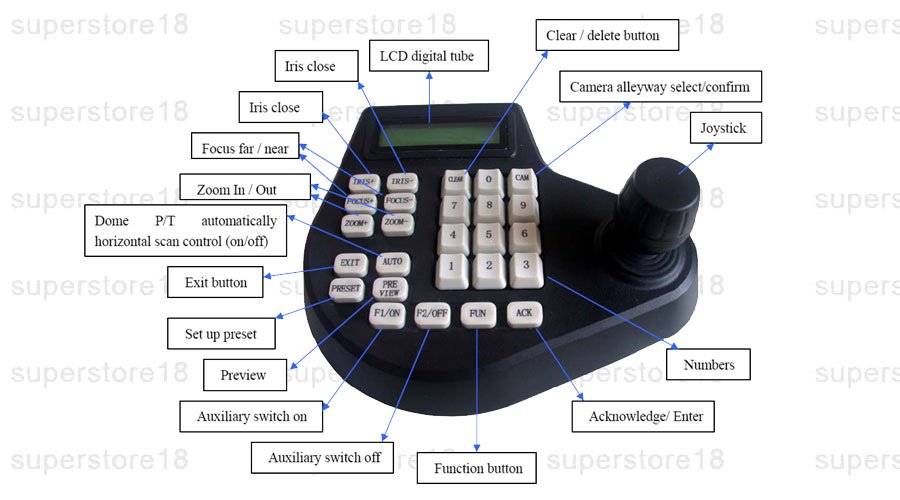 [CAM] camera channel selection/confirmation
[PRESET] pre-set position setup
[PREVIEW] pre-set position previewing
[0]--[9] numeral keys
[CLEAR]/[CLEAR] clear key
[Auto] automatic dome pan scanning control (ON/OFF)
[F1/ON] Ancillary switch ON
[F2/OFF] Ancillary switch OFF
[IRIS+] Iris wide
[IRIS-] Iris narrow
[ZOOM+] Zoom short
[ZOOM-] Zoom long
[FOCUS+] Focus far
[ZOOM-] Focus near
[FUN] Function key
[ACK] Acknowledge key
[EXIT] Exit key
Power supply outlet: connecting external DC9V power.
Communication outlet: RS-485 output outlet connecting the RS-485 outlet of the decoder, RS-485 input outlet connecting the outlet of DVR mainframe or built-in hard disk VCR.

Attention: Please read the Manual carefully before installation and connection, for any incorrect cable connection may cause permanent damages to the units. Make sure power is switched off before connection and all communication cables are screened twisted pair. All communication cables should avoid high-voltage cables or other jamming sources.

1.Technical Index of PTZ Keyboard

A. Electric Index
Power supply: DC9V 500mA
Provided power Adapter: AC220V±10% 50/60HZ switch to DC9V 500mA
Communication connection mode: RS-485 for mainframe connection; RS-485 bus mode for controlling units connection
Baud rate of communication: 2400/4800/9600/19200 BIT/S
Range of communication: 1500M (0.5MM twisted-pair)

B. Mechanical Index
Dimension: 70(H)X 165(W)X 270(L)mm

C. Ambient
Temperature: 0~60( degree)
Relative Humidity:90%RH


Description of MainFunctions :
The main functions of the DVR keyboard include:
1. The keyboard output adopts photoelectric insulated 485 control, which
provides strong anti-jamming and long-range transmission.
2. The range for dome camera or decoder address setup: 1~255.
3. Variable-speed operation can be applied to the built-in dome of the high speed dome camera.
4. Pre-set positions can be setup and previewed in the high speed dome camera.
5. Up to four tour routes can be setup and previewed in the high speed dome camera, with each tour having a maximum of 16 pre-set positions, dwell time and speed for each pre-set positions programmable.
6. The high speed dome camera can be manually / automatically controlled.
7. Lens zoom ratio, focus and iris can be manually controlled.
8. More than one terminals, such as dome cameras and decoders, can be controlled.
9. Control can be realized by simultaneously using the DVR keyboard with one DVR mainframe or built-in hard disk VCR.

Item Includes:
1 x Camera keyboard Controller ;
1 x English User Manual
Packaging Details
Unit Type:

piece
Package Weight:

1.5kg (3.31lb.)
Package Size:

30cm x 20cm x 12cm (11.81in x 7.87in x 4.72in)