Model No.:CTO741 U.Price: Negotiable Price Terms: FOB Payment Terms:T/T Delivery Lead Time: Negotiable Product Origin: China
Detailed Product Description
FLASH STARS
Introduction
(1) Background:
Nowadays you can hardly image a beautiful night sky without lamp lighting. There has been tremendous progress in lamp making technique and as a result the night sky becomes much more brightened and romantic. In fact, you will find beautiful lighting in small and big cities which makes the night sky so bright as in the day time. Really, people even call it " a city without night time". So, the lamp strings which can emit beautiful, attractive, romantic and rhythmic lighting is the most important media. Obviously, the lamp strings you will in markets are not bright enough in the black night sky without any attraction at all. With this in mind, we, supported by our sound technical knowLEDge in experience in xenon lamp making and advanced know-how, have successfully made " Flash Stars" lamp strings to meet the market demand.
(2) Special Feature:
"Flash Stars" Lamp strings Series are made of xenon flashtube, controlled electronically, with high intensity. This is a new and advanced lamp string, which can emit strong flash light in a short moment, and also Penetrate smoke, fog and even heavy rain. Further it has the following features:
- Size small
- Easy to carry and simply installation
- Low consumption in power supply
- Rainproof
- Able to meet the Green Energy Source requirements.
(3) Application:
"Flash Stars" lamp strings are used to create an active and joyful environment or attract an attention. Ideal for used in:
- Outside wall of office buildings
- Entrance doors of all shops and restaurants
- Show cases
- Lighting decoration on advertising boards or frames
- Amusement houses or dancing halls etc.
(4) Specification: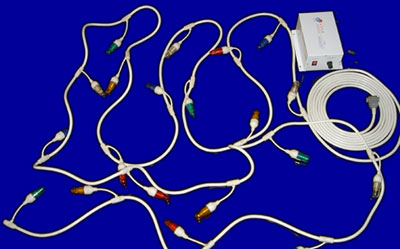 ①. 220V AC:
a) F.S-20AC 0.2A : 20 lamps/set
(b) F.S-60AC 0.6A : 60 lamps/set
②. 12V DC:
(a) F.S-20VDC 3A : 20 lamps/set
(b) F.S-60VDC 9A : 60 lamps/set
③. Cord:
(a) Maximum 50 meters
(b) Interval between lamps: 33cm/50cm (optional, or as required by user)
④. Xenon flash tube type:
(a) Model No. FT/TC-3216
(b) Life span: 4X10 6 times
⑤. Lens color: Clear, Blue, Amber, Green and Red. (Or any color(s) as required by user).