Model No.:CTO34816 U.Price: Negotiable Price Terms: FOB Payment Terms:T/T Delivery Lead Time: Negotiable Product Origin: China
Detailed Product Description
Specification
Model No

T408L

T40AC

Measurement range
-60~760°C(-76~1400°F)
Full Range Accuracy
(Tobj=-33~760°C,Tamb=23±3 °C)

+/-2% of reading or 2°C(4°F) whichever is greater
Distance: Spot
30:1
20:1
Mode
Ave, Dif, Hi/Low Alarm,

Real Time

Max / Min, Lock
Feature
National Lab Standard Traceable
Certificate of Calibration Available (COC Optional)
IR-SoC technology (Infrared System on Chip) and Batch Calibration technology drive the dimensions and cost to the lowest limits
New Low voltage technology, no more 9V battery
Use the most affordable and available battery: AAA size, instead of the low Capacity 9V battery
Long Battery Life
Note:
with Laser and Backlit turned off
For Alkaline Battery (1150mAh): Typical 8days.
Large LCD Screen, with bright amber color Backlit
User Friendly Interface: 5-Key ( with Emissivity Fool Proof Function )
High-end arithmetic: Max; Min and DIF; AVG mode
Auto Power Off: 15sec
Precise K type Thermocouple Thermometer available (optional)
Available Packages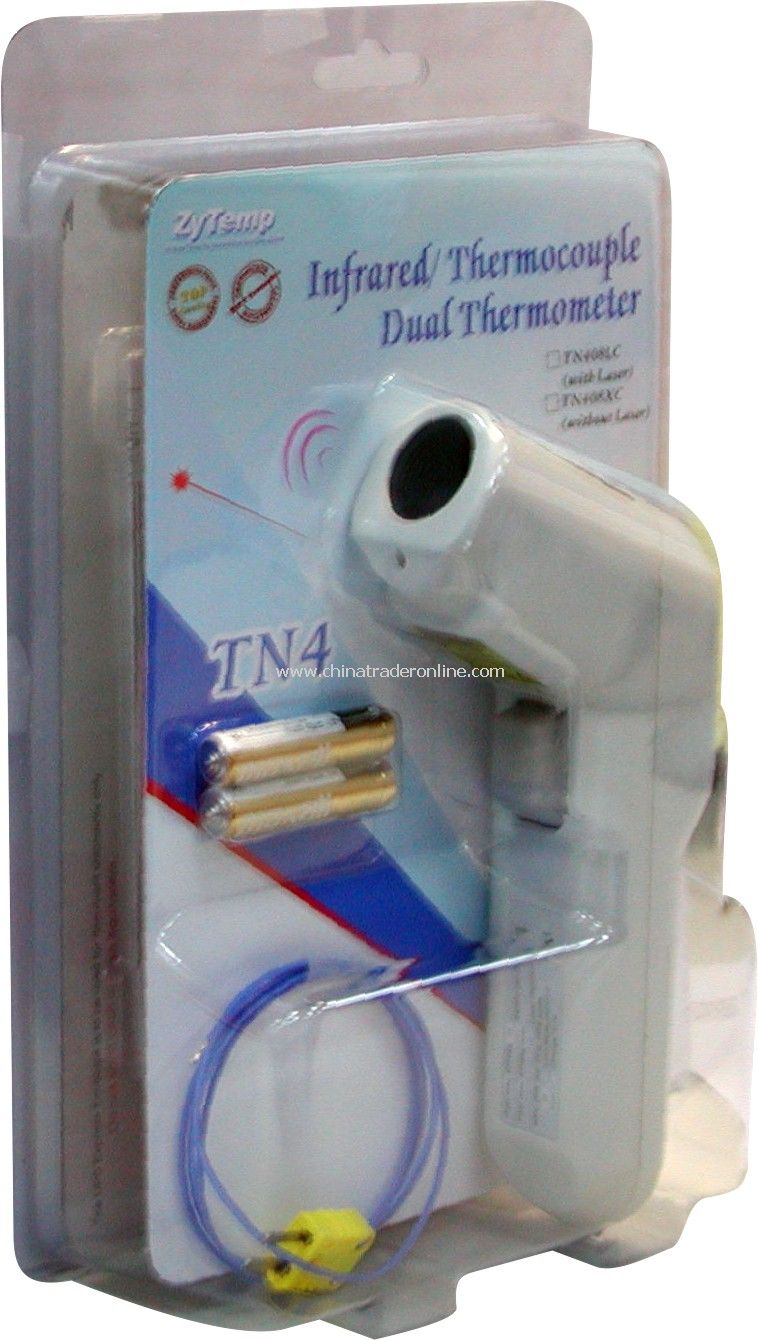 Available Labels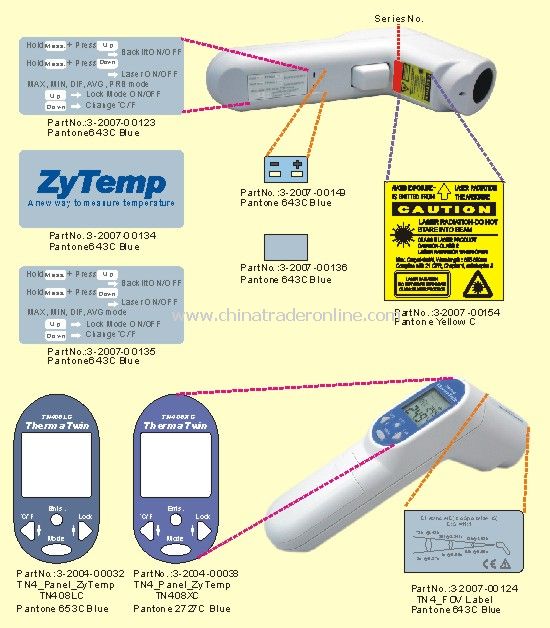 General Description
T408L/ T40AC are the ultimate tools for temperature measurements.
It contains 2 most reliable temperature sensors:
1) Non-contact Micro Machining Thermopile
2) K-type thermocouple socket
Such an arrangement can fulfill most of temperature measurement requirements:
Use the Non-contact for instant; not-reachable situation.
Use the thermocouple for high precision; non-surface situation.
Templorer also come with an ultra long battery life (8days for Alkaline battery), no 9V battery,
It use the most affordable and available AAA size battery.
Learn Emissivity with the Templorer: Emissivity is a difficult concept for general user to catch; For Templorer, it's easy to get. Use the contact thermometer to get the true temperature.
Then, use the Non-contact to get the surface temperature. Adjust the Emissivity until they are the same.
Next time, use the correct Emissivity for that object. No more guess work, no more looking up on Emissivity Table.